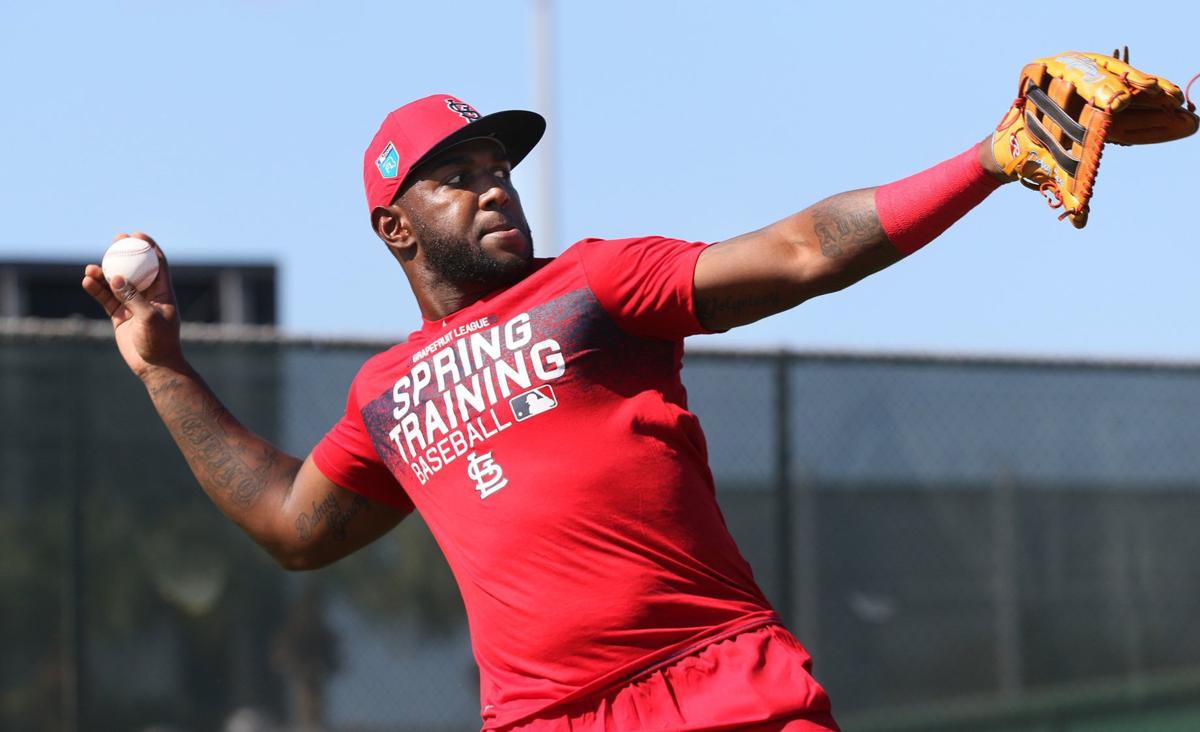 In 2003, Cards' star Albert Pujols was having a lot of trouble throwing the ball and, as a result, Jim Edmonds and Edgar Renteria had to go deeper into left field to help Pujols get the ball back into the infield whenever he had to throw the ball. The team decided that since Pujols was such a great hitter they needed him in the lineup and the only way to "fix" Pujols during the season was for him to undergo surgery that would remove him from the lineup for several months. They basically played with 8 defenders in order to get Pujols' bat in the lineup everyday. Ben Godar over at Viva El Birdos did a great write-up on this a couple of years ago. Pujols ended up being a win player despite the defensive limitations.
Yesterday during the Cards' 6-2 loss to the Mets, a fly ball was hit to left fielder Marcell Ozuna with a runner on 3rd base. Since there was an impending throw home, Tommy Pham ran all the way from center field, cut Ozuna off to catch the ball, and threw the ball toward the plate. This was clearly a ball that should have been played by a left fielder who could get behind the ball and make a strong, accurate throw home and yet Pham kept Ozuna from making that throw.
Here's the field view of the Mets' outs yesterday.
The second red dot from the left is the fly ball in question. On twitter yesterday, here's what Derrick Goold had to say:
Goold's article this morning repeated that quote from Pham.
This wasn't the only instance where Ozuna's ability to throw was limited, however, as VanHickslestein pointed out on Twitter during yesterday's game.
Notice how far Paul DeJong goes out to left field to catch Ozuna's cutoff throw to the plate. Needless to say, DeJong's relay was very late which shouldn't be a surprise since he could probably flag down a cab at LaGuardia from where he's positioned when he catches Ozuna's throw.
So it's clear that this is a pre-ordained plan for Ozuna at least for the time-being, as both Pham and DeJong are in on the strategy, much as it was in '03 when Pujols was relying on Edmonds and Renteria. When asked whether or not Ozuna should be on the D.L., here was Goold's response:
It's true that outfielders just aren't asked to make all that many really important throws. Ozuna was brought to St. Louis to bat in the middle of the order and, though he hasn't had any hits in the first two games, he is batting 4th and it is just 2 games. Maybe it would be different if he was a shortstop. Still, it's also true that the team has a left fielder who can't right now even make the most rudimentary throws. It's also true that the Cardinal organization is deepest in pitchers and outfielders. Finally, it's also true that the team has an outfielder playing 1st base and he's missed 2 pretty fundamental plays at 1st base in the first 2 games of the season. This just isn't like in 2003 when the gap between Pujols and everyone else was much greater.
There are, as far as I can figure, 3 possible reasons why the team hasn't DL'd Ozuna.
The team wants the new, young star on the roster and in the lineup for the home opener on Thursday. This is stupid. I can't believe this could possibly be the reason.
As Goold says, his arm is getting better and he is one of the team's best hitters and he just doesn't have to make that many throws from left field. The team can still have his bat in the lineup while his arm heals.
His "sore" arm isn't going to heal during the season without surgery and the team needs and wants his bat in the lineup and is willing to make some concessions defensively in order to make it happen. This is the Albert Pujols treatment and is easily the worst-case scenario.
We have to be hoping for scenario 2 above. His arm just needs some time to heal and then he can be a fully functioning left fielder as well as the impact hitter in the middle of the Cardinals order that the team traded for over the winter. Still, 10 days on the D.L. isn't that long to be without Ozuna and the team can put Martinez in the outfield and Gyorko and Yairo Munoz in the infield and not be that much worse over those 8 or 9 games. The team would surely call up Harrison Bader who is ready anyway and the offensive drop off would be very small while giving the team a left fielder who can throw the ball.
Considering the fact that the team is extremely well-positioned to deal with a short D.L. stint by Ozuna, it raises the question as to why he hasn't been placed on the D.L. given his current limitation. If it is just going to take a little time for the sore arm to heal, why make any throws at all, especially since the team has the depth to handle a short-term loss? Is the answer really that his sore arm isn't going to heal on its own at all and that the only solution — as it was in 2003 — is surgery and a very lengthy D.L. stint? Given the questionable history of the team's medical staff, it's reasonable to wonder how bad Ozuna's arm really is right now.
Thanks for reading.
I wanted to add something to my post from yesterday where I advocated for using Jose Martinez to be a major part of the team's infield during 2018. In it, I essentially made the argument (without supporting it) that the ZIPS and Steamer projections for Martinez are selling him short. I felt that needed to be explained.
Back in September, Dave Cameron — then of Fangraphs; now of the San Diego Padres — came to this conclusion about Martinez. He said:
"But if I'm John Mozeliak, I'd probably just keep Martinez and make him my everyday first baseman next year."
It was this article that really got me starting thinking about Martinez because he referenced a lot of the same sorts of things I mentioned in my post yesterday — that his exit velocity was among the highest in the league, that his xwOBA was 5th highest in baseball, and that — in contrast to what we normally think about these "fluke" type seasons — Martinez was probably actually unlucky in 2017.
About a week ago, Zach Gifford over at Birds on the Black, authored an article entitled, "Tempering Expectations about Marcel Ozuna." The main idea of the article was that, if Cards' fans were expecting Ozuna to have a season similar to 2017 or that his career might be on upward trajectory, they might be bitterly disappointed if he actually turns out to be worse. His xwOBA in 2017 was about 26 points lower than his actual wOBA and that he was only 70th in baseball in barrels, according to Baseball Savant. These numbers indicate that Ozuna was very lucky in 2017 and might not be able to repeat it in 2018. The difference, however, is that the ZIPS and Steamer projections both seem to account for that luck — though Steamer is much more bullish on Ozuna than ZIPS.
The projections for Martinez, on the other hand, don't really appear to factor in Martinez's unluckiness in their projections. Truthfully, it's probably much more likely that Martinez has much less of a track record even than Ozuna and so projecting him is much more difficult than projecting Ozuna is. Still, Martinez was a .379 wOBA guy last year when unlucky and he's projected for around .336 by Steamer and .331 by ZIPS. Xstats does have him projected for a .370 wOBA in 2018.
So, yeah, I think the projections are selling him short and, if so, he's going to be a really good hitter for the team in 2018 and should be getting a lot more playing time. If he can put up the kind of batting line he did last year — which, to me, isn't unreasonable considering the fact that he was so unlucky last season — and the team gives him around 500 PA's by using Matt Carpenter or Jedd Gyorko as the super-sub, he could add another 1 to 1.5 wins to the team's total. ZIPS has Martinez pegged for 1.1 WAR in 2018 in just 399 PA's. Give him another 100 PA's and another 30-40 points of wOBA and he's now probably a 2.5 WAR player. The team — now projected for 88 wins by Fangraphs — then becomes an 89 or 90 win team and probably 1 player away from being a strong contender for the division title.
Ultimately, it wouldn't surprise me 1 bit if:
Martinez is the team's leader in wOBA in 2018 AND
Martinez has more WAR than any of the other Cardinal infielders
But to do those things, Matheny is going to have to write his name in the lineup card regularly.
I'm not a guy who routinely bad-mouths the projections. The people who put those together are much smarter than I am and those projections do a much better job projecting player performance than I ever could. I'm not going to quibble with the projections for Ozuna, Paul DeJong, or any other Cardinal player but I think they're awfully light on Martinez.
Thanks for reading.
A lot of Cards' fans have been clamoring for the addition of another big hitter, and with good reason. Most of us expected to add Giancarlo Stanton this offseason and instead ended up with Marcell Ozuna. Now, Ozuna's a really good player in his own right but he's not Stanton. Stanton not only is a superstar who would've transformed the lineup but he's also under contract for the next several years. Ozuna, on the other hand, only figures to be a Cardinal for the next 2.
The persistent chatter about adding another big bat to the lineup seems primarily driven by 2 things. The first is the fact that the Cardinals have missed the playoffs the last two seasons and fans have seen the team fall behind the loathsome Cubs, who won their first championship in 1008 years (not a typo). We've been spoiled by the team's success and demand a return to its winning ways. The second is that Matt Carpenter has some positional versatility and there are several players on the free agent market who could fit the team's lineup. The team could add a third baseman, turning Jedd Gyorko into the super-sub a lot of fans believe him to be, leaving Carpenter at first. Another option is to add a first baseman, moving Carp back to his original position at third base.
I'll admit that the prospect of turning Gyorko into a Ben Zobrist-like super-sub has its allure. First, Gyorko is a strong defensively at both 2B and 3B and has the ability to fill in at SS and 1B in short stints. Considering Kolten Wong's relative weakness against lefties, the right-handed Gyorko is a natural platoon partner and then he could bounce around the infield, allowing Carpenter, Paul DeJong, and the new first or third baseman the days off they need to stay healthy and strong for a playoff run. It's pretty easy to envision Gyorko getting 100+ starts at the 4 positions and 450 or so plate appearances which would make him a big step up over Greg Garcia as the utility infielder.
When there was discussion about a month ago about the prospect of the Cardinals trading for Evan Longoria (especially as part of a Chris Archer trade), it was hard not to see how much depth this would provide the infield. The problem, as lots of people on the internet were all too willing to point out, was that Longoria just wasn't that big of an upgrade over Gyorko at third. To be sure, the team would gain quite a bit by replacing most of Garcia's PA's with Gyorko's, but it wouldn't gain much, if anything, by replacing Gyorko's with Longoria's.
The free agent market right now is flush with corner infielders, most notably 1B Eric Hosmer, The Cards have been linked to Hosmer as rumors have circulated that he's received multiple 7 year, $140+million offers. Adding Hosmer would move Carp back to third and makes Gyorko the super-sub. That sounds like a lot of infield depth and would surely make the Cardinals better…but at what price?
If the Cardinals didn't want to spend $140+ million on this experiment, they could always add a third baseman such as Todd Frazier or Mike Moustakas. Frazier and Moustakas aren't as good Hosmer but they're pretty good players in their own right and wouldn't come with Hosmer's Scott Boras-driven high price tag. Let's begin with Hosmer.
Most of the discussion about Hosmer is about whether or not he's worth the high price tag that Boras has attached to him. Here, Craig Edwards makes the point that $140 million isn't really out of line (though Travis Sawchik argues that a team wouldn't really benefit from signing Hosmer to a 7 year deal). Still, for a team sitting where the Cardinals sit on the win curve, where an additional couple of wins could really be the difference between making the playoffs and having its fans lament for another offseason how long it's been since the Cardinals were part of that elite group, the team may not need to insist on getting a ton of surplus value from a free agent acquisition.
Hosmer, of course, isn't a superstar but he is a pretty good player and a solid upgrade over Greg Garcia. Adding him to 1B, moving Carpenter across the diamond, and replacing Garcia with Gyorko would surely help the team and perhaps push them into the playoffs. Steamer projects Hosmer to be worth 2.6 WAR next year while ZIPS has him at a paltry 1.9. He was a 4.1 WAR player last year (though -0.1 in 2016) but that was aided by a .351 BABIP. But he's young, maybe still improving and it's not beyond the realm of possibility that he's a 3 – 3.5 WAR player in 2018. Fangraphs presently has the Cardinals projected for 88 wins so adding another 3 puts the team in prime playoff position and puts the team right in the thick of the NL Central race.
What about Frazier or Moustakas?  Moustakas is projected for around 2.5 WAR next year (2.5 from ZIPS; 2.7 from Steamer) while Frazier is projected for around 3 (3.5 from ZIPS; 2.3 from Steamer). Like Hosmer, those guys would certainly help.
The question or concern, however, isn't so much about how any of these players produces in isolation but rather, how much do they add to a team that already has 8 solid starting position players? And, are they worth that addition? For instance, if we assume Hosmer is a 3.5 WAR player and, as one, is worth $140 million over 7 years, that doesn't mean that he adds 3.5 WAR to the Cardinals. Gyorko, for his part, is projected as at 2.9 WAR so the addition of Hosmer, even at 3.5 WAR, only adds about half a win to the Cards' starting infield. Now, turning Gyorko into a super-sub is an improvement over Garcia but, in doing so, also reduces his plate appearances. He wouldn't be a 2.9 WAR player as a super-sub, so maybe 2 WAR is more likely. Because of that, he's probably only about a 1 win upgrade over Garcia because getting him 450 PA's reduces Carpenter's, Wong's, and DeJong's as well. It's an upgrade, to be sure, but probably only about a win and a half, not the 3.5 Boras wants the Cardinals to pay for. All that assumes, also, that the defensively challenged Carpenter would be worth as many WAR as a starting 3B as he is as a starting 1B. Personally, I'm skeptical that's the case, as he's a decidedly below-average 3B but a pretty good 1B but maybe the positional adjustment helps it all come out in the wash.
The point is that Hosmer, even if he's a 3.5 WAR 1B, he's probably only worth about 1.5 WAR to the Cardinals and, thus, not worth anywhere near $140 million to the Cards. He might be worth that much to the Royals or Padres — where he'd actually be replacing a replacement level player — but that's not what he'd be doing with the Cardinals.
The same sort of logic applies to Frazier and Moustakas, though Carpenter remains at first base, in that they wouldn't be replacing a replacement level player. In fact, it's dubious whether either of them is even an improvement over Gyorko but at least Gyorko is an improvement over Garcia and adding them probably adds 1 win or so to the Cardinals' total. Is 1 win per year, even where the Cards are on the win curve, worth a 3 year, $45-50 million contract? Questionable, at best. And one opportunity cost of adding a 3B to a multi-year contract this offseason is that it makes attempting to sign, say, Josh Donaldson to a long-term contract next offseason much more difficult. Perhaps the team should stay away from one of these guys for that reason alone.
There's good and bad to the Cardinals' roster as it stands today. The good is that the team is pretty solid at all the non-pitching positions. Every starting position player projects (according to ZIPS) for at least 2.1 WAR. The bad is that there really are no superstars in the mold of Stanton. Ozuna is the best the team has and he's projecting for *only 3.7 WAR.
Because the team is so balanced, therefore, the only real way to improve the lineup is to add a genuine superstar. Hosmer, Moustakas, and Frazier just don't fit the bill. The guy who does, of course, is Donaldson but the Blue Jays don't appear to be all that interested in parting with him…at least, not yet.
Finally, I'd like to thank @StlCardsCards and Dave Cameron for inspiring me to get back to writing. I've been wanting to do it and needed a little nudge. CardsCards' advice on Twitter and Dave's "retirement" from Fangraphs were the inspiration I needed to get back at it. Back when I was writing at http://www.vivaelbirdos.com, I was reading fangraphs religiously trying to learn as much as I can about the game and come up with ideas to write about at VEB. I learned so much from Dave and Fangraphs and being a dedicated reader of that site for the last several years has also helped me appreciate how much I don't know. Thanks to both of you and to everyone else for reading.