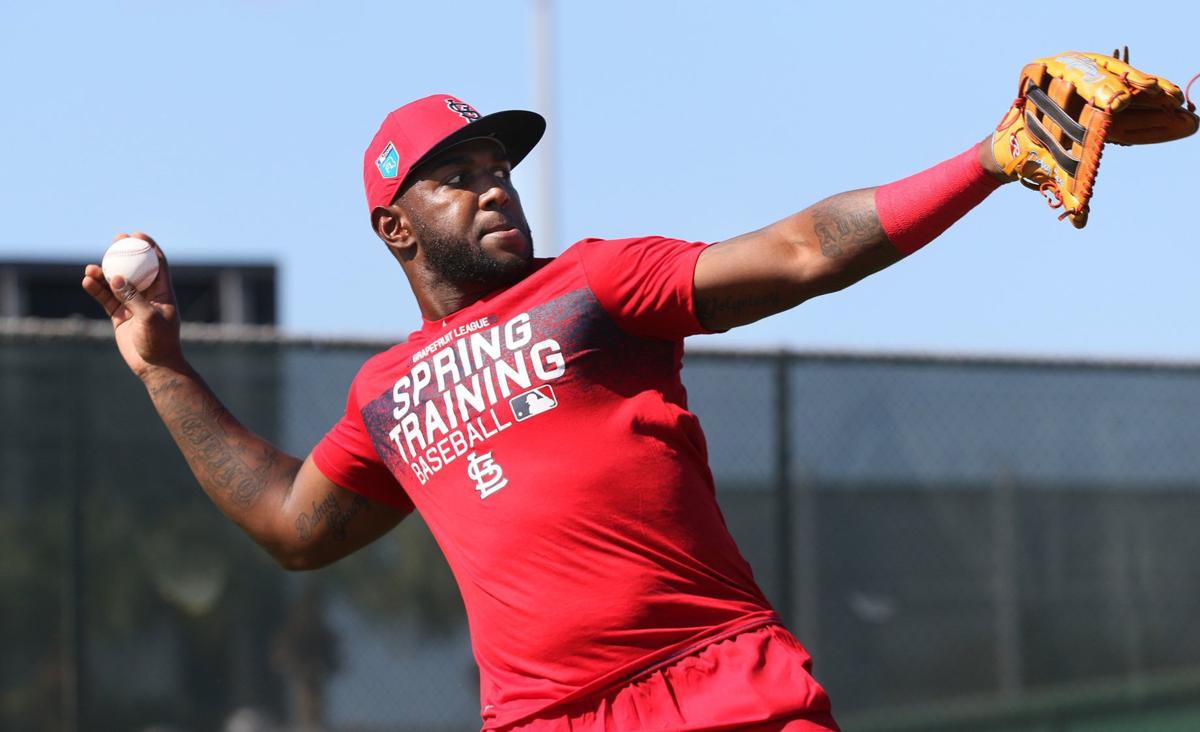 In 2003, Cards' star Albert Pujols was having a lot of trouble throwing the ball and, as a result, Jim Edmonds and Edgar Renteria had to go deeper into left field to help Pujols get the ball back into the infield whenever he had to throw the ball. The team decided that since Pujols was such a great hitter they needed him in the lineup and the only way to "fix" Pujols during the season was for him to undergo surgery that would remove him from the lineup for several months. They basically played with 8 defenders in order to get Pujols' bat in the lineup everyday. Ben Godar over at Viva El Birdos did a great write-up on this a couple of years ago. Pujols ended up being a win player despite the defensive limitations.
Yesterday during the Cards' 6-2 loss to the Mets, a fly ball was hit to left fielder Marcell Ozuna with a runner on 3rd base. Since there was an impending throw home, Tommy Pham ran all the way from center field, cut Ozuna off to catch the ball, and threw the ball toward the plate. This was clearly a ball that should have been played by a left fielder who could get behind the ball and make a strong, accurate throw home and yet Pham kept Ozuna from making that throw.
Here's the field view of the Mets' outs yesterday.
The second red dot from the left is the fly ball in question. On twitter yesterday, here's what Derrick Goold had to say:
Goold's article this morning repeated that quote from Pham.
This wasn't the only instance where Ozuna's ability to throw was limited, however, as VanHickslestein pointed out on Twitter during yesterday's game.
Notice how far Paul DeJong goes out to left field to catch Ozuna's cutoff throw to the plate. Needless to say, DeJong's relay was very late which shouldn't be a surprise since he could probably flag down a cab at LaGuardia from where he's positioned when he catches Ozuna's throw.
So it's clear that this is a pre-ordained plan for Ozuna at least for the time-being, as both Pham and DeJong are in on the strategy, much as it was in '03 when Pujols was relying on Edmonds and Renteria. When asked whether or not Ozuna should be on the D.L., here was Goold's response:
It's true that outfielders just aren't asked to make all that many really important throws. Ozuna was brought to St. Louis to bat in the middle of the order and, though he hasn't had any hits in the first two games, he is batting 4th and it is just 2 games. Maybe it would be different if he was a shortstop. Still, it's also true that the team has a left fielder who can't right now even make the most rudimentary throws. It's also true that the Cardinal organization is deepest in pitchers and outfielders. Finally, it's also true that the team has an outfielder playing 1st base and he's missed 2 pretty fundamental plays at 1st base in the first 2 games of the season. This just isn't like in 2003 when the gap between Pujols and everyone else was much greater.
There are, as far as I can figure, 3 possible reasons why the team hasn't DL'd Ozuna.
The team wants the new, young star on the roster and in the lineup for the home opener on Thursday. This is stupid. I can't believe this could possibly be the reason.
As Goold says, his arm is getting better and he is one of the team's best hitters and he just doesn't have to make that many throws from left field. The team can still have his bat in the lineup while his arm heals.
His "sore" arm isn't going to heal during the season without surgery and the team needs and wants his bat in the lineup and is willing to make some concessions defensively in order to make it happen. This is the Albert Pujols treatment and is easily the worst-case scenario.
We have to be hoping for scenario 2 above. His arm just needs some time to heal and then he can be a fully functioning left fielder as well as the impact hitter in the middle of the Cardinals order that the team traded for over the winter. Still, 10 days on the D.L. isn't that long to be without Ozuna and the team can put Martinez in the outfield and Gyorko and Yairo Munoz in the infield and not be that much worse over those 8 or 9 games. The team would surely call up Harrison Bader who is ready anyway and the offensive drop off would be very small while giving the team a left fielder who can throw the ball.
Considering the fact that the team is extremely well-positioned to deal with a short D.L. stint by Ozuna, it raises the question as to why he hasn't been placed on the D.L. given his current limitation. If it is just going to take a little time for the sore arm to heal, why make any throws at all, especially since the team has the depth to handle a short-term loss? Is the answer really that his sore arm isn't going to heal on its own at all and that the only solution — as it was in 2003 — is surgery and a very lengthy D.L. stint? Given the questionable history of the team's medical staff, it's reasonable to wonder how bad Ozuna's arm really is right now.
Thanks for reading.
Last week I went through all the reasons why giving Jason Heyward $200 million is not the same as giving $200 million to Albert Pujols 4 years ago.  It's interesting that, 4 years ago, there weren't that many teams in the market for Pujols.  It appeared to be between the Cardinals and the Marlins (was he really going to Miami?) until the Angels got involved.  Part of that, probably, is that it seemed to be somewhat of a forgone conclusion that he wasn't going to be leaving St. Louis, but a lot of it also had to be all the things we discussed last week — his age, his history of injuries, the fact that he was basically only going to be able to provide value with his bat and, of course, his contract.  I imagine that Heyward, on the other hand, will have many suitors.
This week I want to explore which teams will be attempting to compete with the Cardinals for the honor of paying him roughly $200 million over the next 10 years — the contract Jeff Todd at mlbtraderumors expects Heyward to receive.  (For my part, I'm going with 9/$190 + an opt-out clause after 4 or 5 years.)
After the Cubs' series ended, Jennifer Langosch reported that "re-signing Heyward tops the Cards' to-do list."  Heyward, in that same article, is quoted as saying of the Cardinals, "This is definitely an ideal situation."  It's clear that there's mutual interest in Heyward making St. Louis his home for the next several years.  The question, then, is about the money.  Can we make it work?
The Cardinals don't really have a history of spending on the biggest free agent out there. It's not really our style.  The last time the team did that, however, was a situation very similar to this one.  The team traded for an outfielder on the verge of becoming a free agent, let him play for a while with the birds on his bat, and then signed him that offseason.  That player, of course, was Matt Holliday and this was two years prior to Pujols becoming a free agent.  It's clear that the team signed Holliday with the intention of him becoming the team's leader and star player if/when Pujols left.
So here we are, 6 years later, one year before Holliday's contract ends, and the team is trying to decide how much to offer Heyward.  Like Pujols then, Holliday is the team's highest paid player (at least in total contract value; Wainwright earns more per year) and he'll be a free agent at the end of 2016 though the team does hold a $17 million option on 2017.  It's clear that Holliday won't sign another long-term contract, though there's been some discussion on both sides of a shorter extension with the team.  Holliday is no longer the team's star player and, after his contract expires, won't be the team's highest paid player even if he does sign an extension.  It's time to pass the torch.
Though the team has never gone higher than $120 million in total value on a contract for any player, it did offer Pujols more than $200 million when he left for the Angels so it's not like the team is unwilling to put this much money on the table.  They just know that it has to be for the right player.  The team also, as Derrick Goold has pointed out, has never included an opt-out in any contract that they've signed.  But, according to Goold, they're "open to the possibility."  It will certainly take one in order to get Heyward to return.  They've done no-trade clauses before, as well.  Holliday has one.  So though all of this is rare for the team, none of it seems to be unworkable.
The team also, as I pointed out last week, should expect a huge increase in revenues when the new TV deal kicks in in a couple of years.  Playoff revenue also helps, of course. Moreover, though several of their younger players will see big increases in their salaries as they become eligible for arbitration and the team extends some, Holliday's big salary comes off the books in 2016 ('17 if the option is picked up), Molina's comes off the books in 2017 ('18 if his option is picked up), Peralta's comes off the books in 2017, and Wainwright's comes off the books in 2018.  So while a big increase to Heyward's salary will tighten the team's budget for a couple of years (he made $7.8 million last year), that won't cripple the team's long-term future at all.
Still, there will be many suitors for Heyward due to his youth and potential, and his ability to help his team in so many ways.  There are several big-budget teams  who could be interested and might out-bid the Cardinals if they want to.  All in all, I'd put the team's chance to re-sign Heyward at around 20%.
So let's look at some of the others.
First of all, who can we eliminate?  Some teams just have no shot either because they don't have $200 million to throw at one player, they have so many needs that they're not going to be willing to put it all into a right fielder, or they're not likely to have $200 million worth of appreciation for a position player whose value comes largely from getting on base, playing defense, and running the bases and doesn't hit 25-30 HR or more per year.  I'll put the Blue Jays, Royals, D'backs, Pirates, Mets, Indians, Tigers, Rays, Reds, Marlins, A's, Padres, Braves, Twins, Brewers, Rockies, and Phillies in that category.  Some of these teams are quite good, of course, but they have needs other than a RF so Heyward's not a fit.  The Mets, I imagine, will go all-out to re-sign Yoenis Cespedes and, if they can't do that, they'll go another route.  They could use another outfielder if Cespedes leaves, but their money issues and holes at SS and 2B (if David Murphy leaves, as expected) will probably preclude them from spending a huge chunk on Heyward.
So who's left?  The Cubs, Dodgers, Giants, Yankees, Angels, Mariners, Astros, Red Sox, Nationals, Rangers, Orioles, and White Sox.  First, Orioles — 1%, about equal to the Mets.  They have a lot of revenue but many needs and have never shown any desire to spend $200 million on anyone.  Moreover, they seem to regret letting Nelson Cruz leave as a free agent.  Heyward is like the anti-Nelson Cruz.
Red Sox — 1%.  I don't want to say "no chance" because they're the Red Sox but they have plenty of outfielders (well, plenty minus 1 with Hanley Ramirez moving to 1B) and are woefully short of pitching.  They'll spend their $200 million on David Price.
Nationals — 1%.  The Nats are going to need quite a bit of help with Desmond and Jordan Zimmerman becoming free agents, Stephen Strasburg becoming a free agent after next season, and Bryce Harper becoming a free agent the year after.  They're long shots, at best, here.
Rangers — 2%.  They've got Choo and Fielder locked up and have a pretty desperate need for pitching even with Yu Darvish returning next year but they're paying Josh Hamilton nothing, don't need to play him at all, and have a pretty good revenue stream.  Adrian Beltre's not getting any younger so they could use a little youth and maybe no team in baseball is better equipped to take advantage of any power surge Heyward might have as he gets into his prime.  I'd be surprised, but not shocked.
White Sox — 2%.  The White Sox have holes everywhere, the financial ability to make a big splash, and could really use a star like Heyward in their lineup and in the field (by UZR they were the worst defensive team in the majors last year).  On the other hand, they're terrible.  They have holes everywhere and, while Heyward could help them a ton, he alone won't make this team a playoff team.  A 76 win team who finished 19 games out of first in 2015 with Jeff Samardzija, they're going to have to blow every other team's offer out of the water in order to get Heyward to sign with them and I just don't see that happening.
Angels — 2%.  Who knows?  They've got the financial wherewithal, but they're already paying Pujols $25 million per year, they're paying Mike Trout nearly $25 million per year, and they're paying Josh Hamilton nearly $25 million per year to play for the Rangers.  Still, they were 18th in the majors in position player WAR and 19th in pitcher WAR so they could definitely use a guy like Heyward.  Even so, I see them having too many holes and too much money tied up in single players to see them wanting to do it again with Heyward.
Giants — 5%.  They've never done anything like this before and they're also not likely the team that's going to appreciate Heyward's skill set but they've got holes.  Hunter Pence is in RF but he could be moved to LF, leaving Heyward to patrol RF and the very deep right-center while still enabling Heyward to use his power to take advantage of the right field wall that Bonds abused for so many years.  Posey makes a lot of money but he's locked up until 2021.  Still, I see them more as players for pitching — Mike Leake or Jordan Zimmerman — than for Heyward.
Mariners — 10%.  This, I could see.  They have money and a huge outfield that needs to be patrolled by someone like Heyward.  New GM Jerry DiPoto is a guy I think appreciates the value that Heyward provides and has an edict from the front office to try to win.  He's going to build around Cano, Kyle, Cruz, and King Felix.  Ultimately, I don't see them wanting to have a 3rd $20 million player (Cano and Felix are the other 2) so I see them probably trying to fix multiple needs with several players but don't be surprised if the M's make a big push for Heyward.
Yankees — 10%.  Never say never.  The Yankees have several needs, a short right-field porch, and would appreciate the defensive and base running value that Heyward provides.  They also, of course, have the financial ability to outbid everyone else.  If they want him, they'll probably get him.  That said, the Yankees have tried to be pretty judicious with their spending over the last couple of years to avoid paying excessive luxury taxes.  They already have Ellsbury, Gardner, and Beltran in their outfield and have Aaron Judge on the way.  And with Bryce Harper a free agent in just a couple of year, my guess is that they'll try to blow the budget on Harper after Beltran and C.C. Sabathia come off the books.
Astros — 10%.  The Astros are close to being really good, as anyone who watched them in the playoffs this year knows.  They have a lot of young players and a ton of payroll space and, with Rasmus becoming a free agent, a hole in the outfield.  Sure, George Springer is in RF but they could easily move him to LF to accommodate Heyward.  My guess is that they feel the need to spend more on pitching this offseason than position players so they ultimately go a different route, but don't be surprised if I'm wrong.
Dodgers — 15%.  It wasn't too long ago when all anyone could talk about was how crowded the Dodgers' outfield was and how they needed to trade some players.  What a difference a year can make.  Joc Pederson showed some warts by really struggling in the 2nd half.  Carl Crawford missed much of the season with injuries and didn't play very well when he was out there.  Andre Ethier still isn't very good and Yasiel Puig was injured much of the year and has become such a pain the butt that most expect the Dodgers to trade him this offseason.  That outfield surplus is now shaky at best.  Most of the Dodgers' additions since Andrew Friedman took over have been smaller names rather than huge splashes but, after losing to the Mets in the NLDS, they may decide to spend a lot this offseason.  I'd expect them to extend Zack Greinke for about $150 million.  Do they want to spend an extra $200 on Heyward?  This is the other team who can outbid everyone else if they want to.
Cubs — 20%.  This is the worst case scenario for the Cardinals.  Not only did we lose to the Cubs in the NLDS and not only are they looking really strong well into the future, but the Cubs signing Heyward would not only improve their team but would make us worse in the process.  Yes, the Cubs probably need to add pitching but they are going to have a hole in CF and could trade either Soler or Schwarber to add pitching.  Heyward then would improve their outfield defense and hit homers in Wrigley.  He is unquestionably Epstein's kind of guy and the Cubs have the payroll space in order to make this happen.  Then, there's this from Craig Edwards:
I think the Cards and Cubs probably have the greatest chance to land Heyward but, unlike the Holliday or Pujols negotiations, there will be multiple competitors.  We're not getting any hometown discount and if the Dodgers, Yankees, or Cubs decide to spend $225 million or more, we'll lose him.  But, as long as the price stays in the $180-200 million range, I think we have as good a chance as anyone…and I think he'll be worth that kind of contract.
It's 2011.  Albert Pujols, the greatest Cardinal of my generation and the driving force behind 2 World Series titles, is about to become a free agent.  Pujols accumulated 81.3 fWAR in his 11 years in a Cardinal uniform and was well on his way to the Hall of Fame.  He had been the Rookie of the Year, won the MVP 3 times and finished 2nd 4 more (he'd have certainly won 3 more if not for Bonds and the fact that MVP voters love RBI).  He had won 2 Gold Gloves and been an All-Star 10 times.  He was, in every definition of the word, a Cardinal hero…and he was about to become a free agent.
Everyone knew the price for Pujols was going to be high; the obvious question was "how high would the team go in order to re-sign him?"  He had to be re-signed, though, right?  He was, after all, Albert Pujols.  We couldn't let him get away.  Many were surprised, including Albert himself, when the team didn't make more of a push to get him signed before his final year in a Cardinal uniform.  In January, 2011, the team offered Pujols a 9 year, $198 million offer which he rejected.  He became a free agent that November and in December, the team upped its offer to 10 years, $220 million.  We, of course, know what happened next. The Angels swooped in with a 10 year, $254 million offer and he was gone.
As it turned out, the team didn't miss a beat.  The Cardinals installed Lance Berkman and Allen Craig at first base, won 88 games, and was 1 win away from playing in the World Series.  The Angels had a good season themselves, winning 89 games, but finished 3rd in the tough AL West.  Pujols played well, accumulating 3.6 fWAR but it was the lowest total of his career.  And he hasn't been even that good since.  In his 4 years in Southern California, Pujols has accumulated a total of 9.1 fWAR — less than 2.3 per season.  In 2003 as a Cardinal, Pujols accumulated 9.5 fWAR in that season alone.  Now he's basically a league average player.
In the 2012 amateur draft, the Cardinals had 2 compensation picks for losing Pujols to the Angels.  They used those 2 picks to select Michael Wacha and Stephen Piscotty.  Craig became a hero for the Cardinals and, when he started to slip, we traded him to the Red Sox for John Lackey.  Now, does anyone think that the Cardinals would trade Wacha and Piscotty for Pujols?  Would any team be so stupid as to make that deal?  I guarantee that the Angels would rather have Wacha and Piscotty than Pujols.
Dave Cameron from Fangraphs does a trade value series each July where he ranks the top 50 players in baseball in terms of the trade value and then he concludes the series with the 5 players in baseball with the lowest trade value.  In other words — the 5 worst contracts in baseball.  In 2013 and 2014, Pujols ranked first — the worst contract in the game.  This year, Pujols made it up to 5th with Cameron estimating that Pujols's contract had $70 million in dead weight.  Whether or not we agree that Pujols's contract is the worst, or the 5th worst, or the 10th worst in baseball, it is inarguably a bad contract, one to which we should all be ecstatic the Cardinals never agreed.
This offseason the Cardinals are back in that boat, trying to decide how much to offer Jason Heyward, another free agent who will be seeking somewhere in the neighborhood of $200 million.  Many Cardinals' fans, with full knowledge of how well the team has done since Pujols left and of how burdensome the contract is to the Angels, will follow the Heyward negotiations with trepidation.  "$200 million for guy who hit 13 home runs last year?  That's preposterous!"  But is it?
First of all, it's not 2011.  Salaries have escalated by about 7% per year in baseball over the last 4 years.  So, $200 million today is equivalent to about $153 million in 2011.  Second, when Pujols left for the Angels, he was already 31 years old and his last season was his worst (though still very good).  He had dealt with multiple injuries to his arm and his feet and was basically relegated to first base.  It was pretty obvious that he was not going to age particularly well.  He would soon, undoubtedly, become a DH at least part-time and with the Cards in the NL, it didn't make a ton of sense to carry a part-time DH on the roster.  As it turns out, Pujols was only in year 4 of his 10 year deal and only played 1B 95 times last year.  Down the stretch for the Angels, Chris Cron played 1B and Pujols was the DH.  Formerly a very good base runner, at least for someone without blazing speed, now Pujols is frequently pinch run for.  And he still has 6 years left on his deal.
Jason Heyward is a very different character.  First, he just turned 26 — 5 years younger than Pujols was when he began his first season in LA.  He's an outstanding defensive outfielder and base runner.  He's easily the best defensive right fielder in the game by both UZR and DRS and the team even felt comfortable enough with Heyward in the outfield to put him in CF 10 times.  Fangraphs has Heyward as the 5th best base runner in the game, adding 7 runs to the team just by stealing bases and taking the extra base on singles and doubles.  So even though Heyward doesn't hit with the power that one would like from a superstar, $200 million player — averaging just under 13 homers per year over the previous 3 seasons — he still accumulates a lot of value other ways.  Once Pujols started to break down, he became basically just a slugger.
Even though he only hit 13 homers in 2015, he was still the 6th best outfielder in the game by fWAR and was the team's most valuable player as well.  Most importantly, however, many players don't reach their peaks until they are somewhere between 27 and 30.  Heyward has already hit 27 HR in the big leagues once and with his frame, 6'5″ & 245 pounds, there are a lot of reasons people think that power may return.  In other words, there are a lot of reasons to believe the best is yet to come with Heyward.  That simply was not realistic with the Pujols contract.
Yesterday, Craig Edwards of vivaelbirdos and fangraphs shared this via twitter:
Sure, Holliday had more homers than Heyward at his age but Heyward was still arguably a better hitter at his age than Holliday was (121 wRC+ > 116 wRC+).  And Holliday didn't provide anywhere near the defensive and base running value that Heyward provides.
So, here's the point, the Cardinals can't afford to hand out $200 million contracts to anyone who wants one.  They must be offered judiciously.  Thus, the team should offer a huge mega-contract only to players who:
are obviously great
are young and can provide value for a long time
have the ability to help the team at the plate, in the field, and on the bases
may not have yet reached their peak
have a good injury history
can help the team win when they're not hitting homers
Jason Heyward meets all of those criteria.  If the team is ever going to bid on the top free agent position player on the market, this is the guy to bid on.  We won't be able to go after Bryce Harper in a couple of years but we do have as good a chance as anyone of landing Heyward and should push all our chips in to get him.  We have room in the budget and the team is going to get a lot more money when its big contract with Fox Sports Midwest kicks in.  The dollars may be similar, in that they may both start with a 2, but this is not the Pujols contract.